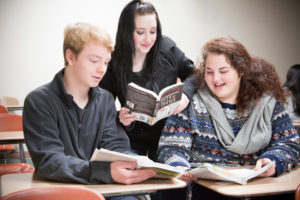 GRIP (Guided Reading Integration Program) is MxCC's Reading across the Curriculum program. Sponsored by the college's Center for Teaching (hyperlink to CFT), GRIP provides professional development to interested MxCC faculty members to facilitate the implementation of reading instruction in their discipline classes. We want to help any interested faculty member "get a grip" on teaching reading!
Interested faculty are awarded a partial course release in the fall semester to redesign syllabi and lesson plans around best practices in reading instruction. In the spring semester, faculty implement the changes they've planned and present their experiences in an event co-hosted by GRIP and CFT.
Why GRIP?
At community colleges across America, more than 60% of students place into pre-college courses, and the Community College Resource Center found that 33% of all students place in pre-college reading alone. While English departments provide remediation for pre-college writers and readers, most discipline professors are more comfortable teaching writing than reading. This program intends to provide those faculty with the supports they need to develop their knowledge base as reading instructors.
Many of our students arrive on-campus as struggling readers. Struggling readers need more than just a semester or two of remediation – they need a series of teachers who are committed to reinforcing their literacy development throughout their college career. Writing across the Curriculum programs and tutoring centers fill this need for struggling writers. GRIP aims to provide the professional development necessary to help discipline faculty teach struggling readers. 
How Can I Get Involved?
Are you a faculty member who's interested in getting a grip on teaching reading?  If so, consider applying for a GRIP faculty scholarship! These scholarships provide release time to interested faculty so that they can redesign their course around best practices in reading instruction.  You can apply for a GRIP scholarship here (link to application I haven't written yet).
Are you interested in supporting GRIP in other ways? We currently need volunteers to serve on our advisory board as we shepherd our first cohort of faculty through the initial implementation year of GRIP. If you'd like to serve on the GRIP advisory board, contact Terry McNulty at tmcnulty@mxcc.edu.
Contact Us
Grip Coordinator
Terry McNulty
tmcnulty@mxcc.edu
860-343-5880
GRIP Advisory Board
Forthcoming